Draw Your Own Dress!
Did you ever want to have a dress that you did not find in the shops?
Now you can draw it! We offer a dress template on which you can draw or write everything you want!
Be the designer of your own dresses!
In this way you can match the dress with your favourite accessories or just draw the things you like most - the things you love, your favorite city view, book or movie character etc.
Check your size
and
download the corresponding template
. Print it, draw your design, take a photo and attach it in your order. Your dress will be ready and sent to you in maximum 10 working days. International delivery costs 6 euro.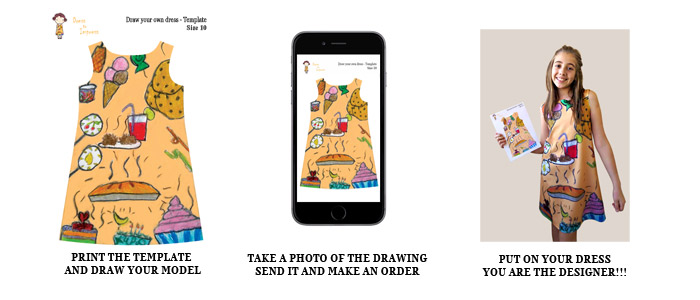 Custom made dress by your design.
You can draw whatever picture you want or you can even create an application or collage on our template. You can use pencils, markers, pastels, etc. The picture will be printed on white fabric and we will send you the complete dress with your design on the front and back.

And you will also have a unique dress that no one else has! Believe us, it is a unique feeling to wear your own design! You can even create your own collection!
Everyone has a t-shirt, be unique, create a unique dress!!!
Be a designer of your dresses! Turn your clothes into art!